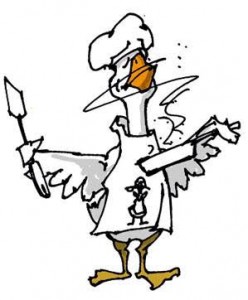 Of course, everyone attending the St Martin's famous May Breakfast knows that since 1867 May Breakfasts have been the way Rhode Islander's commemorate the State's Independence declared on May 4th 1776. Rhode Islanders are very proud of the fact that this was two full months before any of the other original colonies broke political ties with the British Crown. Another interesting fact is that while RI was the first of the 13 colonies to secede from the United Kingdom, it was the last of the original 13 to join the newly formed United States, which it did on May 29th, 1790.
Last  year's May Breakfast we saw an intensity of participation from over 50 volunteers. We had children and teenage members all working hard alongside the core of hardened veterans. In addition to those loyal workers who always show up to work our social events we welcomed many new volunteers, some only very recent arrivals at St Martin's. From 7 am – 12pm we served, fed and coffeed some 350 + bodies. Alongside the pulse and buzz of energy in the Great Hall we still managed to spiritually feed a combined total of 170 worshipers in the Church. What an amazing community we are! We raised over $2000, the proceeds to be split evenly between Epiphany Soup Kitchen and Episcopal Conference Center youth scholarship program. Read on for details of this upcoming May Breakfast.
May Breakfast
May 7, 2017
7am to 12noon
Greet members of the 2nd RI Regiment of  the Continental Line in authentic costume with re-enactment displays.
Enjoy dulcimer music played by the 'Liberty Strings', a three-member ensemble from the Rhode Island DAR. All-you-can-eat breakfast buffet includes fresh fruit, eggs cooked to order, corned beef hash, cod fish cakes, cream chipped beef, homemade New England Baked Beans, muffins, real Rhode Island Johnnycakes made with Kenyon's stone ground white cornmeal, breakfast meats, pastries, tea, coffee and juices.
   $10 Adults ($9 presale before May 2)
$6 children under 12 ($5 presale)
Call the church office to register and buy pre-sale tickets. All proceeds go to Epiphany Soup Kitchen and the Episcopal Conference Center. Our 'Thrifty Goose' Thrift Shop will be open from 7am-12:30pm as a special treat for all breakfast attendees, with a silent auction table in the Atrium!